Cavaliers of Mayfield
TOP CAVALIER BREEDER
Breeder of over 100 Cavalier King Charles Champions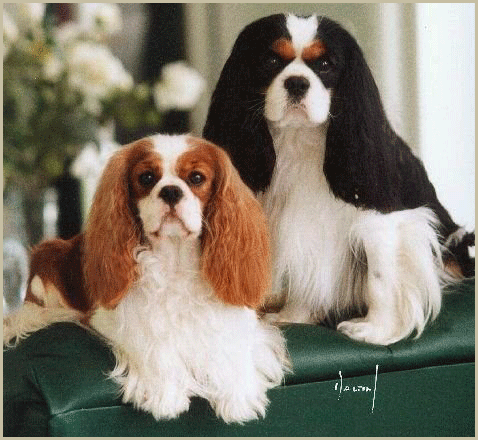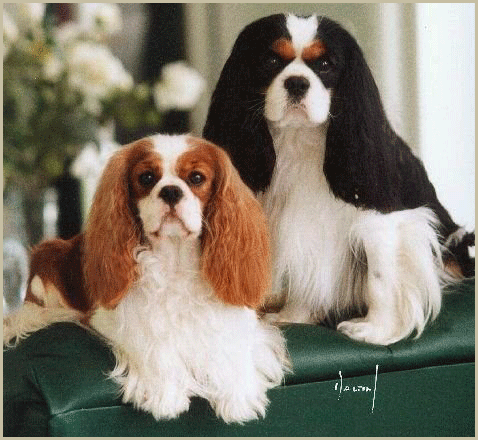 ​
S
EE "Mayfield Puppies" tab
Welcome to the home of Mayfield
Cavalier King Charles Spaniels
Located between Santa Barbara & Malibu
​
Want a beautiful & healthy puppy?
Send an email and ask for a Mayfield application.
Marilyn Mayfield
Number 1 in the USA
Platinum Grand Champion & Multi Best in Shows
GCHP Mayfield Charming Chester
Forestcreek Brass in Pocket at Mayfield, JW
Bred by Kevin Cline MD and Debra Cline MD


Platinum Grand Champion Chester BELOW
"CHESTER"
Number ONE Cavalier in the USA 2015
GCHP Mayfield Charming Chester
Multiple Best in Specialty shows
​
Sire: BIS/BISS GCH Forestcreek Brass in Pocket at Mayfield
Dam: Mayfield Martini

Breeder/Owner: Marilyn Mayfield Co Owner: Karen Chandor
***** BUYER BEWARE *****
Never purchase a puppy from a Pet Shop or newspaper ad.
Pet Shops buy the pups they sell from Puppy Mills.
Newspaper ads are Brokers and Backyard Breeders.
Professional (commercial breeders) are Puppy Mills.
BEWARE of any "so called" breeder willing to ship anywhere,
or anyone that takes Credit Cards.
I am a Member of the * CKCS Club USA * CKCS Club of Southern California * Cavalier King Charles Spaniel Club of Greater San Diego * President of the Burbank Kennel Club, Inc. *
​
Below is Am/Can. CH. MAYFIELD MAGNIFICENT MAME.
Mayfield Marco
A rising star at 6 months old
Owned by Marilyn Mayfield
Meet a born again breed! In the 16th, 17th and 18th centuries, these happy little spaniels were enormously popular pets of English royalty. In the 19th century, fanciers began to favour a short nosed dog and the original Cavalier practically disappeared. In 1926, an American offered handsome cash prizes to anyone who could breed dogs that looked like the Cavaliers in the old paintings. It worked, God bless America and England! A sweet, gentle, melting expression is a hallmark of the Cavalier King Charles Spaniel.Champion Mighty Mouse, is a perfect example of what a good Ruby Cavalier boy should be. He is as beautiful as he is sweet. Cavaliers are supposed to be between 12 and 13 inches high at the withers to be the perfect height. They should weigh between 13-18 pounds at maturity, with slight variations acceptable. Cavaliers are loving and sweet with all ages, from infants to seniors, and make wonderful therapy dogs. They are a perfect breed for a family pet and love to sit on your lap. They will follow you everywhere. They are indoor dogs and not happy outside unless you are out with them.
MAYFIELD JUST JULIA
A rising Star pictured with co-owner
Teresa Murphy
Puppy of the Year
GCH/USA CH. Mayfield Lottie Dottie Doo, JW
Best in Show Champion Grantilley As Good As It Gets ROM (Quigley) with his Champion children Scout, Nellie and Ace.
The Red and white Cavaliers were the favorite of the Duke of Marlborough and were called "Blenheim" (pronounced: Blen-um) after his family's estate, which was also the birthplace of Sir Winston Churchill. I have Cavalier's in all four colors: BLENHEIM, which is (Chestnut (red) and White); TRI (Black and White with tan points); RUBY (all chestnut "red") ; and BLACK & TAN. They are known for their loving and happy disposition. This quiet companion is neither yappy nor snippy. They have long flowing ears and large dark soft eyes. These precious toy spaniels are not only "wash and wear" (no groomer's needed) but are fearless and must be protected. They would walk up to a lion thinking it was their best friend.
Buster Found it.
Quigley
******* CH. Redthea Millie Mayfield ROM ******
****** September 6, 1996 - December 9, 2009 ******
The Queen Mother
Millie holds the All Time Top Producer record in the National Club.
Called comforter Spaniels in the 1700's, Cavaliers served as lap and bed warmers. During the Stuart period, the breed enjoyed tremendous popularity, particularly under the reigns of Charles I and II. So enamored was Charles II of the little dog that he reportedly preferred playing and hunting with his beloved Royal Spaniels rather than tending to matters of state. He bestowed upon the breed the royal title of King Charles Spaniel and enacted a law allowing the Cavalier in all public places, including the Houses of Parliament. The law is still in place today. His supporters were called Cavaliers, as were his loyal dogs. "Millie" pictured above, was one of the most loving Cavaliers I have ever known. She was my first Champion at Mayfield Cavaliers, bred by Jane and Anne Thaeder of South Carolina. Millie has produced 10 Champions. She has the highest honor award the National Club can bestow, Register of Merit. (ROM) Cavaliers do shed, however it can be kept to a minimum by keeping them clean and by frequent brushing. They do not lose their hair in klumps. They loose single hairs like humans do. They are truly a "Wash and Wear" breed, with no need for professional groomers.
Mayfield Pups that became Grand Champions
(See the puppy on Mayfield Puppies)
This is a quality litter of Mayfield puppies pictured at 12 weeks of age, which is when most my puppies leave for their new homes. If you have small children, the puppies must be at least 14 weeks of age before leaving. I occasionally have puppies which are available to loving homes with secure fenced yards. I require a puppy application be completed to see if you would be a good match for a Mayfield Cavalier. I never ship dogs unattended. Our dogs do not live in kennels or crates, but run free and are part of the household. After all, they were royal palace pets and they still are. Be smart, buy from a breeder who shows their dogs. Most will have tested for heart, eyes & hips. The puppies will also be properly socialized. *VERY IMPORTANT: The puppies will be no more money than buying from a breeder who breeds dogs for no other reason than to make money, and most those breeders DO NOT BOARD CERTIFY. READ THE LINK SITE BELOW "WHAT TO KNOW BEFORE YOU BUY" and NEVER BUY FROM A PETSHOP, PROFESSIONAL (commercial) BREEDER OR A NEWSPAPER AD! You will be supporting brokers and puppy mills if you do. See link on "puppy mills", a sad and unhealthy place. Do not buy from anyone advertising "Imports". These are also brokers. Be sure you see at least one parent, and the enviroment they live in. BELOW: Marilyn with a few in training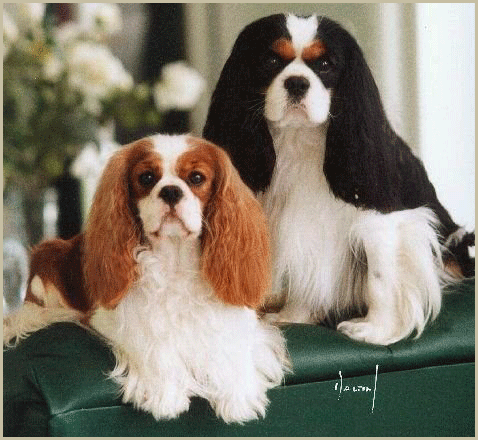 Original oil by Susan Waddington
Owned by Marilyn Mayfield
"True Comforter Spaniels"
First Female Grand Champion in the USA
GCH Mayfield Lottie Dottie Doo
"Quigley"
Father of 44 Champions
May 5, 1999 - July 23, 2012
BIS CH. Mayfield Betsy George, loved by LMA
Buster turns 3 years old
Dog years 7 x 3 = 21